ESPN.com - MLB - Recap
BBC SPORT | St Louis seal World Series place
Congrats to the St Louis Cardinals who did what is, in baseball terms, the almost impossible. In the regular season the Mets were so far ahead of the redbirds as to make the contest barely worth looking at. They were something like 27 games better.
Article outlining the odds
.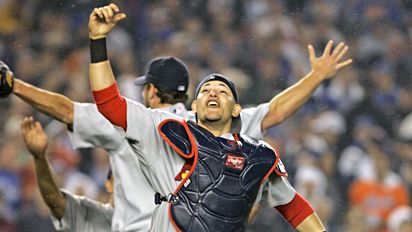 Sounds like that 9th inning would have given me palpatations! The Tigers are going to be very difficult but the pennant is an achievment in itself. Congratulations to Cardinal Murphy-O'Connor and the boys? ;)
I'm not going to touch the whole Muslim veil women issue with a 20 foot poll. Suffice to say I disagree with the whole veil issue but they should have a right to where it in their everyday lives...however if your work has a dress code and your religious attire interferes with that then you've just got to lump it...not get all bolshy and take the country to court. I oppose politicians getting involved with the issue and I would oppose a ban like the French introduced but you are employed to go into a classroom to teach. There are rules and standards which everyone has to obey.