Everton move to sign Westerveld
Didn't see that coming...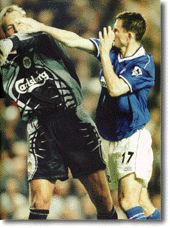 Nothing should surprise us now
In other news :
Liverpool condemn attack on ambulance
This Everton/liverpool/United thing feels like it's getting slightly out of hand. Liverpool fans were singing piss-takes as Smith got treatment for his horrific injury.
Supporters' sick chants reveal new depths of antagonism between two great clubs
"John Arne Riise, I wanna know how you broke his leg"
the fact that he got an warm standing ovation as he was stretchered off will be forgotten amongst the backbiting and stories of Utd fans being pelted with turd (liverpool have home fans sitting above away fans in their Anfield Road stand, at the last Anfield derby the Everton fans were showered with coins, spit and drinks throughout.)
Telegraph Match report
"Liverpool looked a better-balanced team than United in a Cup tie played out in a filthy atmosphere, with sections of both supports shaming great clubs. There were chants about Munich and Hillsborough, a chorus of 'Are you watching George Best' and even some excrement dropped from the top tier of the Anfield Road End into the United section (where it hit a steward)."
The same happens at Goodison and Old Trafford...United fans seem to have adopted our unsavoury Murderers chant as one of their own now and let's not forget the trouble after the Everton/United Cup game last season when the Utd fans were stalked a la Last of the Mohicans all the way back to Lime Street. There is low level abuse during & after all of these games now...he derby has always been a bit on the nasty time in the years I've been going the derby (It certainly didn't always used to be that way) and since the 3-4 game at Goodison a couple of seasons ago and the subsequent Rooney transfer the atmosphere at the Everton/Utd games has been pretty poisonous too. There has never been any love lost between the rednoses and Utd but it seems to have been ratcheted up a few notches recently....there are times, like the two league games last season at Goodison where the rivalry produces a fantastic atmosphere...hostile & partizan but directed the right way. You could argue that that was just because Everton were winning but throughout those games the focus was on getting behind the team.
This sort of trouble is sad but hopefully it'll get nipped in the bud.