I am almost speechless about this. My boss, Andy, showerd me it and I assume it was a spoof but it seems kosher....unless I am being dense.
The Spanish Olympic Basketball teamhave posed in full official national kit all making a slitty eyed gesture.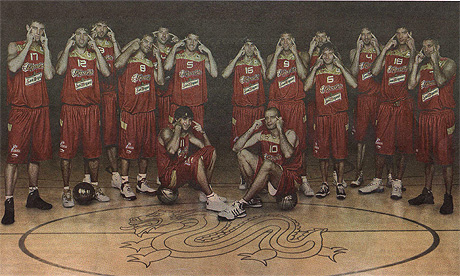 Unbelievable. According to Jose Manuel Calderon
"I would like to share a story with you about something that happened with the Spanish National Team that someone interpreted incorrectly. It happened in the photo session where the Spanish National Team was introduced; one of our sponsors asked us to pose with a "wink" to our participation in Beijing, we made an oriental expression with our eyes. We thought it was something appropriate and that it would always be interpreted as somewhat loving. Nevertheless some of the European media did not see it this way.

From here I would like to declare that we have a huge respect for the East and their people, some of my best friends in Toronto are from China and one of our Spanish National Team sponsors is the Chinese brand Li Ning. Anyone who would like to interpret this differently is absolutely confused."
The Spanish just go on amazing me.